Chapter 4: The Hopes
Louisa Hope married Thomas Withers in 1894 in Kingsdown, Bristol. Both her father (William Hope) and her grandfather (John Hope) were agricultural labourers all of their lives. John Hope was born in Dymock in about 1821 and died at the age of 52 in 1873 in Bromsberrow Heath, Dymock. His burial is recorded in the parish registers for Dymock, suggesting that he must be buried in the church or parish grave yard. John Hope had 9 children, and the youngest child was 4 years at the time of John's death. John's wife, Ann Dance of Berrow in Worcestershire, re-married to Thomas Beard after John's death.
Louisa Hope's father, William, was born in 1846 in Dymock, the eldest of 9 children. The census records show that his siblings were working as labourers from the age of 10. William met Mary Ann Green of Oxenhall and together were married in Oxenhall where Louisa, their eldest child was born. Louisa's birth certificate is signed with an 'X' by her father William. From there William and family moved between Monmouthshire, Herefordshire and Gloucestershire.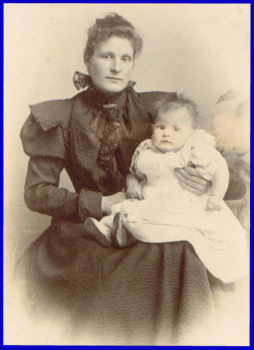 Louisa Withers (nee Hope) with son Cecil, 1900