Chapter : The Tiptons
Ann Tipton was 18 years old when she married her 22 year old cousin William Withers in Glasgow in the Church of Scotland. She was the eldest of the 2 children of Edward and Margaret Tipton, and was born in 1847 in Temple, Bristol. Ann's younger brother was also called Edward Tipton, but he died young at 24 years. Their father, Edward, was from Dudley in Worcester, and worked as a carpenter all his life. Ann Tipton's mother, Margaret, was born in Temple, Bristol, and was the daughter of William Jones, a ship's carpenter. It is possible that Ann Tipton was in Glasgow to help her cousins after the unexpected early deaths their parents. Shortly thereafter, living at 91 Nelson Street in Glasgow, a child, Henry, was born. William and Ann were back in Bristol for the birth of their second child a year later. They would spend the next 20 years living at 38 Hill Street, St Pauls, Bristol. Living with them were Ann's parents Edward and Margaret Tipton. William and Ann Withers would have 7 children that survived childhood: Henry, Margaret, William, Edward, Thomas, Eliza, and George.
In about 1889 Ann Withers had a fall and struck her head, and 'this seemed to affect her mind'. At her inquest (Reported in the Daily Bristol Times and Mirror, 3 February 1891) her father said that her manner towards her children and changed, and on 26 January 1891 she committed suicide by jumping into the Frome river in Bristol. She was 42 years old at the time of her death and her youngest child was 12. She is buried at Arnos Vale cemetery with her brother Edward, one of her children (Charles, 8 months), one of her grandchildren (Jessie Thomas, 2 years) and her brother in law (Thomas Withers, 22 years). Her father Edward died in 1897. Her mother, Margaret Tipton, continued to live at 38 Hill Street until 17 July 1907. On this date at the age of 83 years, she entered Eastville Workhouse, and died 3 months later on 6 October 1907 (Ref: Bristol Record Office, 30105/6/32). Edward and Margaret Tipton are buried in Greenbanks cemetery in Bristol.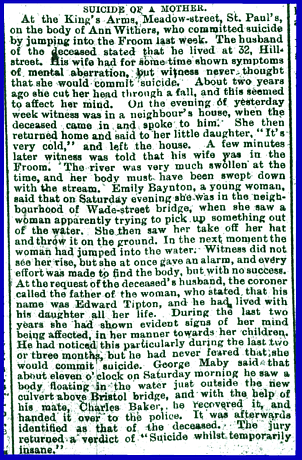 Inquest of Ann Withers (nee Tipton), Daily Bristol Times and Mirror, 3 Feb 1891