Chapter 1: Summary, from Henry to Cecil Withers: 4 generations
Henry Withers was a blacksmith and chain maker who married Ann Jones in Bristol in 1841. He took his wife and 3 children to Glasgow where he worked as a foreman. Unfortunately they both died in their mid-40's and are presumably buried there. He died from a fall down a flight of stairs and she died from TB. One of their children was William Withers, also a chain maker, and he married his first cousin Ann Tipton in Glasgow. They had their first child in Glasgow, but then headed back to Bristol as both Ann's parents were still alive and living in Bristol. William and Ann had many children while living in St Pauls, Bristol. But, in about 1889 Ann had a fall and hit her head and was never the same again. She committed suicide in the river Frome in 1891 and is buried, not with her husband, but with her brother Edward at Arnos Vale. One of William and Ann's children was Thomas Withers. Thomas worked as a postman in Bristol and married Louisa Hope.
Louisa Hope was the granddaughter of John Hope and the daughter of William Hope. Both John and William were agricultural labourers all of their lives. John Hope was born in Dymock, and died at 53 years in Dymock, with his death in the Dymock parish registers, suggesting that he may be buried there. Louisa's father, William Hope, married Mary Ann Green, and in so doing married into a family whose members spent much time in lunatic asylums. Mary Ann Green's father, Charles Green, spent 23 years between the two Gloucester Lunatic Asylums and eventually died in the Coney Hill asylum in 1899. Mary Ann, her brother Elijah and her Uncle John would all spend time in various lunatic asylums. Thomas Withers married louisa Hope in 1894 and their children included Cecil Withers. When Cecil was an adult he served with the Warwickshire Regiment and was wounded in World War I in France. A few years later he met Olive Wilson Gilchrist and between them they settled in Bristol and had 4 children.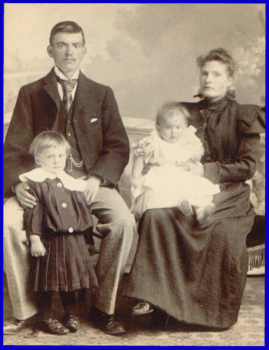 Thomas Withers with wife Louisa (nee Hope), and children Elsie and Cecil, 1900